280 Wholesalers
Free parking
Free wifi
Dear clients,
As part of the fight against the COVID-19 epidemic, the CIFA CENTER is closed as of March 16, 2020 for an indefinite period to date.
Thank you for your understanding.
---
---
Flash sale
---
---
---
---
---
Acheter en ligne sur la marketplace
---
Présentation du grossiste Sun Love
Are you an independent professional, retailer or buyer, looking for a ready-to-wear wholesaler to restock your fashion items?
Discover the ready-to-wear wholesaler Oxxyzen at CIFA Aubervilliers Fashion Business Centre on Avenue de Paris, from Monday to Saturday.
Ready-to-wear wholesaler Oxxyzen offers you a vast selection of clothing. Trendy, classic, original, unique clothing...you will have so much to choose from! Come out to make your selection in the Oxxyzen showroom!
Don't hesitate to contact Oxxyzen, a CIFA ready-to-wear wholesaler, or visit the boutique directly.
Sun Love
Donnez votre avis
---
CIFA Center
Magasin 73B
8 rue de la Haie Coq
93300 Aubervilliers
France
---
+33 1 48 34 97 67
---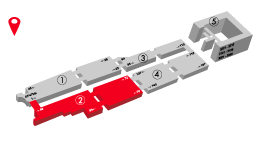 ---
Contact Sun Love