280 Wholesalers
Free parking
Free wifi
jeel-jeans

---
Présentation de la marque Jeel Jeans
JEEL is a brand that has been making designs since 1983 for people who feel themselves young and who love fashion.
For the brand fashion does not mean clothes that are worn during a certain period but a life style that is constantly present and gives happiness to people.
JEEL creates the fashion of tomorrow for people who live fully their life, aspire to happiness and want to enjoy life with style.
---
---
Please login to access the catalog
---
Acheter en ligne sur la marketplace
---
Flash sale
Wholesaler
Jeel France
Donnez votre avis
---
CIFA Center
Magasin 3027-3028
5B rue de Saint Gobain
93300 Aubervilliers
France
---
Facebook
---
Instagram
---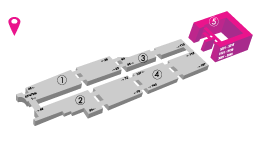 ---
Autres marques de Jeel France